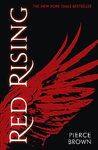 Red Rising
by
Pierce Brown
My rating:
4 of 5 stars
One of the best science fiction books I wish I'd placed higher on my TBR pile!
All and all, I agree with Kirkus Reviews that it is reminiscent of The Hunger Games and Game of Thrones. In fact, I wish I'd had this to read immediately after finishing The Hunger Games series, as it has the same down-the-rabbit-hole, dystopian, desperation I enjoyed and have rarely found since.
The main character, Darrow, is a simple working-guy, and a member of the lowest caste in his society. After a tragic loss, he finds himself caught up in cause for freedom and revenge. Instead of going to beauty base zero, he is literally transformed into a Golden god. Once he's able to look and act the part of the high caste society, becoming his enemy, he's entered in a life-or-death fray, intended to challenge the youth of the ruling class. Can Darrow fool everyone? Can he survive and even win?
Four stars, cause while I devoured the beginning through the transformation, all the way to the start of the competition, the competition itself was slow for me. And, for someone supremely motived by the loss of someone he loved, Darrow sure was ready to move on with an enemy character. Makes me feel like he's an unreliable narrator. Maybe it was intentional.
However, the ending was a surprising twist for me. Hope to enjoy the rest of the series soon!
View all my reviews
Tweet