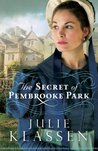 Secret of Pembrooke Park
by
Julie Klassen
My rating:
5 of 5 stars
Wow, great read for anyone who's ever enjoyed Northanger Abbey or Jane Eyre! Secret of Pembrooke Park has a delightful mix of Austen-like hardship, family, community, and tension, while balancing some Bronte-style mystery. It makes for an awesome combo.
Abigail Foster is a practical, sensible heroine. Although her life is far from content from being in the shadow of her beautiful sister, struggling with her father's financial worries, lack of prospects, and moving, she doesn't complain. Instead she adapts to her new surroundings, the eerie Pembrooke Park, curious to understand its mysteries and tragic history.
Along the way, she finds new friends and suitors. Especially the strong and kindhearted local curate, William Chapman. As a reader, I was eager to finally know the deep secrets of Pembrooke Park. However, I was even more impatient for William to confess his feelings! He was perfect. Handsome, gentle, good sense of humor. The tension was too much. I was clinging to every conversation between William and Abigail.
I have to thank the Goodreads Choice Awards for introducing me to this book and author! I have a new favorite in both areas. Highly recommended to Regency romance fans. Great way for me to start my 2016 reading.
View all my reviews
Tweet